To treat general illnesses and chronic conditions (such as diabetes, hypertension, thyroid complains, etc), Novomed Centers has internal medicine specialists and family medicine specialists (also known as general practitioners in the UK and other countries). Our doctors will provide you with comprehensive care for your medical condition, from diagnosis through treatment and beyond. They will forge a long-term relationship with you, helping you to work towards optimal health, and to deal with illness or injury.
Our Internal Medicine Services Include
Preventive screenings and routine check-ups.
Health-risk assessment and healthy-lifestyle counselling
Diagnosis and treatment of chronic medical conditions, such as diabetes, heart disease, high cholesterol, mental health and other long-term conditions
Family planning and routine gynecological screenings
Specialized areas such as men's health, geriatric care and sports medicine
Bio-identical hormone replacement for men and women
Routine dermatologic procedures, such as mole removal, laceration repair
Referrals to our specialists, who have access to advanced technology and innovative research
Which Doctor to Visit?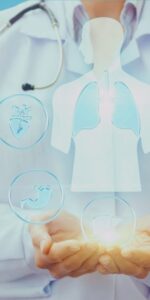 While both our Internal Medicine and our Family Medicine specialists treat general and chronic complaints, their focus differs slightly.
Dr Bashar El-Sharabi is an endocrinologist and diabetes expert. He has a special interest in diabetic emergency, diabetic ketoacidosis, and the metabolic changes associated with obesity, and treating complicated cases of diabetes. His other areas of interest include obesity, thyroid and pituitary issues, hirsutism, vitamin D deficiency, osteoporosis, calcium and bone disorders and children with short stature.
Dr Mark Janowski is our internal medicine specialist at Integrative Medicine, Sunset Mall, and offers comprehensive care for adults to help them reach and maintain peak levels of health throughout their lives. He carries out preventive screenings, routine check-ups, personalized wellness plans, and management of chronic and lifestyle diseases. He also has a special interest in the diagnosis and management of hypertension, diabetes, hormone disorders such as thyroid or sexual dysfunction, gastrointestinal issues, cardiac issues, weight control, depression and anxiety.
If you want to know more about our Internal Medicine Services or our Internal Medicine Specialists kindly book your consultation with us by calling toll-free 8006686, filling out the booking form, or clicking the live chat icon at the bottom of the screen.