Fotona 4D in Dubai, Abu Dhabi and Al Ain
About this system
Fotona 4D is the latest non-surgical facelift system that helps you get a rejuvenated natural-looking appearance without any pain or downtime.
It is an advanced non-surgical and non-invasive treatment for both exterior facial and interior oral cavity. It improves skin laxity, wrinkles, and loss of volume and helps restore skin thickness and firmness by stimulating collagen production known for its role in tightening the skin and improving face volume without the use of injectables.
The Fotona 4D Facelift system uses two laser wavelengths, Er:YAG and Nd:YAG, and has four treatment modes that work on superficial, middle and deep areas of the skin. With this machine, you can reduce the visible signs of aging and enjoy a youthful appearance as it helps to improve sagginess, folds and wrinkles.
What are the benefits of Fotona 4D?
It tightens the skin and restores lost volume without using Botox or fillers.
It provides a facelift from the inside out.
It gives immediate skin rejuvenation, tightening and glow.
It requires little to no downtime.
It is a non-surgical procedure, meaning that there is no need for needles or anesthesia.
How does this system work?
Treatment using Fotona 4D consists of the following four steps:
Smoothliftin®. This step involves treating the inner surface of the cheeks and lips (interior oral cavity). It improves the appearance of the nasolabial folds and helps restore lip volume and gives it a fuller plumper look.
Frac3®. Using a fractioned beam, this step works on the deeper tissues of the skin, giving it a more lifted appearance.
PIANO®. The third step involves bulk heating the subcutaneous area to help tighten the skin and restore lost collagen and elasticity.
SupErficial®. The final step of the treatment involves using a cold peel that smoothens out skin surface irregularities and gives the skin a fresh finish.
The session takes 45-60 minutes, after which you will notice smoother, tighter and more contoured facial structures. Three sessions are recommended to get the best results. Moreover, the benefits of Fotona 4D are not limited to facelift and skin tightening, it can be used for hair removal and is considered one of the latest pain-free hair removal machines suitable for all skin types.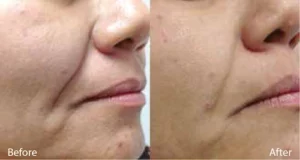 If you are looking for an effective, quick, and gentle treatment for skin conditions, book your consultations with one of our dermatologists or skin specialists and they will help you chose the most suitable machine that can cater to all your skincare needs.