Designed for A tighter and more youthful complexion, this renowned laser is corrects droopy skin – especially on the forehead, eyelids, around the eyes, arms, legs, thighs and buttocks. Before deciding if the procedure is right for you, note that the Thermage® alone will not address large pores or uneven color caused by age spots or pigmented lesions. These usually respond to superficial lasers such as the Fraxel Dual®.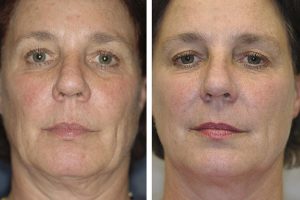 How it works The non-invasive laser targets the collagen production in your skin with radio-frequency waves and bulk heat.
Predictability A single treatment is usually sufficient to yield visible skin tightening and rejuvenation effects. Some patients however may benefit from more than one session, depending on the severity of the problem.
Discomfort Thermage® is powered by continued cooling or CPT (Comfort Pulse Technology). The technology may create temporary discomfort depending on individual pain tolerance, skin sensitivity and the area being treated. This sensation is only temporary, indicating that collagen renewal is taking place underneath. Patients receive topical numbing creams before the procedure, as well as oral medications.
Downtime Clients choose this treatment to see powerful results without the risks and the downtime of surgery.
Note We frequently augment the results of Thermage® with fat transfer to the face, especially for patients who are over fifty as they benefit from replacing the lost volume while having a long-term stem cell regeneration boost.