A tummy tuck, also known as abdominoplasty, is a cosmetic surgical procedure that flattens the abdomen by removing excess skin and fat and tightening the abdominal muscles.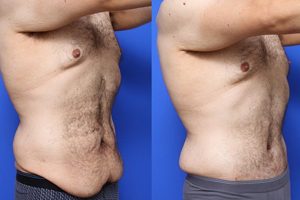 A tummy tuck aims to:
Improve your self-esteem.
Remove excess loose skin from the front of the abdomen.
Tighten your stretched or separated abdominal muscles.
Sculpt your waistline.
Smooth and flatten your abdominal profile.
Best Candidates for a Tummy Tuck
A tummy tuck is suitable for men and women who are in good health. Women who have had many pregnancies may benefit from the surgery to tighten their abdominal muscles and reduce skin. Moreover, a tummy tuck is an option for men or women who were obese in the past and still have excess fat deposits or loose skin around the belly.
If you're planning on getting pregnant, you might want to put off getting a tummy tuck until after you've finished having children. Your vertical muscles are tightened during surgery, and future pregnancies may separate those muscles.
If you are planning on losing a significant amount of weight, then the tummy tuck isn't for you either. After you've tried everything else, a belly tuck should be your last option. It should not be used as a weight-loss alternative.
Things to Consider
To be a good candidate for a tummy tuck at Novomed, you must have realistic expectations regarding the outcome of the surgery and recovery time. You must be committed to following all of your doctor's orders regarding preparation for the procedure and recovery steps afterward. All of this will be explained to you during your initial consultation.
Furthermore, a tummy tuck is not a miracle cure. It is important to be at or near your ideal weight for at least six months because if you gain weight after the procedure, the results will be diminished. It is perfectly safe to give birth after a tummy tuck, but pregnancy may cause deterioration of the abdominal muscles. A tummy tuck will not eliminate stretch marks, but they can be improved somewhat if they are located on the areas of the excess skin that will be removed. In addition, you should consider the appearance of scars after a belly tuck.
Before the procedure, you can discuss scar placement and length with the doctor.
Preparation
Preparation for an abdominoplasty surgery is crucial to the safety and positive outcome of the procedure. Expect to undergo lab testing or a medical evaluation to determine if you are healthy enough for this operation. If you smoke, your doctor will advise you to stop smoking for at least two weeks before the operation and for two weeks afterward, as smoking increases the risk of problems and hinders healing.
Before the procedure, consume meals that are well-balanced and complete. A nutritious diet may aid in your recovery.
Tell your doctor about any medications you are taking, including prescriptions and herbal supplements. For a period of time before and after the surgery, your surgeon may advise you to stop taking certain medications.
If you opt for outpatient surgery, you must arrange for someone to drive you to the facility and home afterward and stay with you for the night following the procedure.