The eCO2 from Lutronic is an innovative fractional ablative laser that provides a fast, full spectrum of resurfacing treatments with improved pain management and unparalleled results.
The Lutronic eCO2 resurfaces damaged skin by selectively target a fraction of the skin cells at the treatment site. This process targets damaged cells and stimulates the growth of healthy skin and supportive collagen fibers. As the skin heals, wrinkles smooth, dark spots fade, and skin texture and complexion improve.
MINIMAL DOWNTIME, IMPROVED COMFORT, INCREASED RELIABILITY
The eCO2 features a Controlled Chaos Technology (CCT), which generates random energy delivery patterns; This results in increased safety, reduced post-operative discomfort and faster healing time.
Full range of applications
One of the primary benefits of the Lutronic eCO2 laser is the versatility it provides during treatment, enabling your treating specialist to use a variety of settings to disperse the laser beam bursts across the treatment area. This reduces heat absorption by surrounding tissues, which can be very helpful for reducing recovery time after treatment.
Moreover, the laser can be calibrated with different settings, which allows your provider to fine-tune the treatment to your specific needs. Our specialists at Novomed can use this laser to treat issues like:
Skin resurfacing and rejuvenation
Wrinkles and fine lines
Skin laxity / loose skin
Pigmented lesions
Scars (acne scars, surgical scars, burn scars)
Textural irregularities
Solar/actinic elastosis
Dyschromia
Syringoma
The eCO2 has the features you need to address a broad range of clinical conditions, from superficial to ultra-deep ablation. The ultra-fast quick-change tips come in a choice of three spot sizes, 120, 300 and 500 μm each is suited for specific treatments. The eCO2's tip auto-recognition feature automatically changes treatment settings to adjust for the change in spot size. This combination of advanced technology, quick-change tips and safety features ensure the ultimate control for the best outcomes.
How does the treatment work?
Before the session start, our specialist will evaluate your skin condition, help you understand your treatment options, and give you a better idea of possible results based on your unique situation.
When your treatment begins, you will be asked to sit in a comfortable chair in a semi-reclining position and protective eyewear will be placed over your eyes to ensure your safety.
Once the procedure starts, the specialist will use the device to deliver bursts of laser energy to your skin.
After the procedure is over, your provider may ask you to apply special lotions to help your skin heal faster.
Side effects after treatment include skin redness, mild swelling, and minor crusting and oozing at the treatment site; This is a natural part of the body's healing process.
We recommend that you take a few days off work after the treatment to allow the skin to recover. Moreover, the skin's natural UV defenses will be weakened after treatment, making it imperative to avoid direct sun exposure.
How many treatments will I need?
The number of treatments needed will be decided based on your skin condition and aesthetic goals. However, most patients notice significant improvement after just one treatment.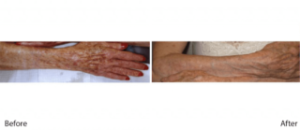 What are the benefits of this machine?
Low risk, high safety, rapid recovery, and minimal downtime.
Controlled Chaos Technology creates random patterns to minimize heat build-up and maximize patient comfort.
No consumables needed during the treatment