About this device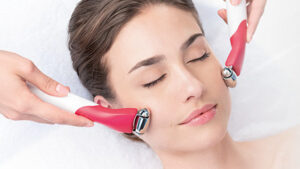 We tend to use our muscles less frequently as we age. This causes the skin to lose its tone and contours to slacken.
Hydradermie Lift is the perfect workout for facial muscles. It creates a lifting effect in just over an hour by toning the complexion, smoothing wrinkles and lifting the facial contours.
This treatment is considered a suitable alternative to invasive ant-aging procedures because it achieves the desired results without swelling, bruising, surgical incisions, or a lengthy recovery period.
Hydradermie Lift targets the wrinkles around the eyes, mouth, and nose and across the forehead. It also lifts and tightens the skin in the cheeks, jawline and neck.
Hydradermie Lift uses a unique electrotherapy technique to deep cleanse, rehydrate and rejuvenate the skin.
Benefits of this device
Deep cleansing.
Deep hydration.
Controls oil secretions and breakouts.
Oxygenates and increases radiance.
Lifts facial contours.
Eliminates eye bags and dark circles.
Works with all moisturizing, purifying, calming, lightening and anti-wrinkle gel serums according to your specific needs.
Moreover, this machine performs two additional functions using a safe effective microcurrent. The first function is massaging the face to drain toxins and improve microcirculation to create a healthy radiance. The second function is stimulating the delicate muscles of the face and neck for an immediate lift effect.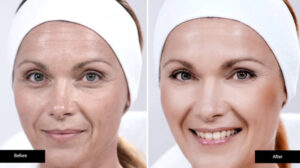 Hydradermie Lift is a one-hour treatment. It includes a luxurious massage using collagen-based serums followed by a customized mask to further enhance the lifting effect. After the first treatment, you will notice that the facial features have been lifted, the skin has regained its tone and surface wrinkles have faded. Because of its immediate results, Hydradermie Lift is highly recommended before a special occasion.
If you are looking for an effective, quick, and gentle treatment for skin conditions, book your consultations with one of our dermatologists or skin specialists and they will help you chose the most suitable machine that can cater to all your skincare needs.