Secret RF in Dubai, Abu Dhabi and Al Ain
What is the Secret RF machine?
Secret RF is a skin revitalization and resurfacing microneedling system that uses radiofrequency to improve the fine lines, wrinkles, and scars from the inside out. This state-of-the-art machine can achieve non-surgical skin rejuvenation using a special handheld device with gold-plated microneedles attached. These microneedles deliver the heat from radio waves to the dermis; the lower part of the skin, to promote collagen production which helps tighten the skin and improve its overall texture and improve the appearance of acne scars, large pores, and stretch marks.
Safe, Accurate, and Effective
Thanks to the unique gold-plated microneedling device, RF energy bypasses the skin surface and reaches the dermis directly, which reduces pigmentation post-treatment significantly.
Secret RF technology is designed to reduce discomfort, maximize comfort, and ensure smooth skin penetration while maintaining uniform thermal diffusion.
What are the uses of Secret RF?
The Secret RF system provides outstanding results in:
Non-surgical face lifting
Wrinkle and fine lines reduction
Skin tightening
Skin rejuvenation
Pore reduction
Acne scars treatment
Hyperhidrosis treatment
Stretch marks treatment
Thread and spider veins treatment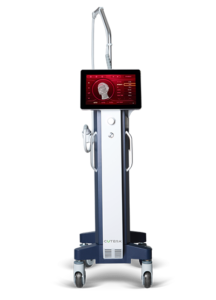 How does Secret RF work?
Improve the appearance of aging signs
The combination of microneedling and radio waves energy creates thermal coagulation points that stimulate the production of collagen and natural healing growth factors resulting in skin tightening and lifting, glowing skin, and smooth skin texture.
Acne scars treatment
Scarring is one of the side effects of acne that develop during the process of natural healing in the body where white blood cells release protein to repair the damage done to the dermis. Secret RF offers effective solutions and optimum results in acne scars treatment that can be seen after the first session.
Large pores treatment
Sun and UV light exposure, pimples, and acne can all cause pore enlargement. Secret RF technology targets specific skin layers to create micro coagulation areas that help reduce the pore size.
Stretch marks
Stretch marks appear like parallel lines on the skin. These lines are different in color than the normal skin and they range from purple to pink to grey. Stretch marks are common on the stomach, breasts, upper arms, thighs, and buttocks. Secret RF uses a combination of microneedling and radiofrequency energy to stimulate the production of collagen and natural healing growth factors to renew damaged cells and skin layers and improve the appearance of stretch marks.
Hyperhidrosis treatment
In this disorder, the body produces an excessive amount of sweat causing discomfort and embarrassment to patients at work and social gatherings. Secret RF uses high energy to decrease the function of sweat glands which reduces excessive sweating and improves comfort. This painless, safe procedure can be done in 20 minutes at the doctors' office with no downtime.
Thread and spider veins treatment
The Secret RF machine treats spider veins using the Smart Cure technology which involves applying radio waves energy through a super-fine needle placed directly in the spider veins. The veins will coagulate and disappear.
Using an insulated electrolysis needle, Smart Cure technology can treat undesirable thread veins by delivering heat to the targeted vein without damaging the surrounding area.
Is Secret RF treatment safe?
Yes. Secret RF is an FDA-approved system that uses fractional tissue heating technology. The needle depths are variable, coagulation occurs for maximal collagen and stimulation and the epidermis is safely protected from the heat. This allows for a very safe and effective treatment for all skin types.
How long does the treatment take?
Usually, full-face treatment takes about 15-20 minutes and if the neck is included, add another 15 minutes. Numbing prior to the procedure takes 40-60 minutes.
How many treatments are needed?
The number of sessions needed can vary depending on the type of treatment. In general, 3 sessions are recommended for maximum benefit and the result can be noticed after one session.
How painful is the Secret RF?
This depends on the procedure and individual. Each person has their own pain tolerances. However, the Secret RF was designed to maximize comfort during the treatment and with topical numbing cream, treatment is very well tolerated.
How long is the recovery time?
The initial redness subsides very rapidly in the first hour. It takes about 24-36 hours to resolve, as does the swelling.
At Novomed Centers, our clinics are equipped with the latest state-of-the-art machines to provide our patients with comfortable treatments and optimal results. If you want to know more about Secret RF or to book an appointment with our specialist, call us on 800 NOVO 6686.